The majority of 2020—outside of being a stressful nightmare—featured me patiently waiting for Weezer's supposed new release, Van Weezer (2021, hopefully). Because of course, no matter how many disappointing albums the group comes out with, I'll always be hoping for the return of Blue album (1994), White album (2016), and Pinkerton (1996) Weezer. Yet, due to the COVID-19 pandemic, the release was eventually set for May of 2021 rather than 2020, and around fall of last year I had wiped any future Weezer release from my mind and continued with my life.
When I finally caught wind of the new new Weezer release, OK Human (2021), I didn't know what to feel. It wouldn't be the "riff-heavy" Van Weezer I was promised, nor would it be the staple power-pop of the group's past fifteen-ish years, so what would it be? Well, if you told me the band's first release of the new year would be a baroque-rock powerhouse, I would've first punched you, and then expected this year to be worse than last. But thankfully, 2021 has given me at least one gift, and it's the best Weezer record since the aforementioned White Album.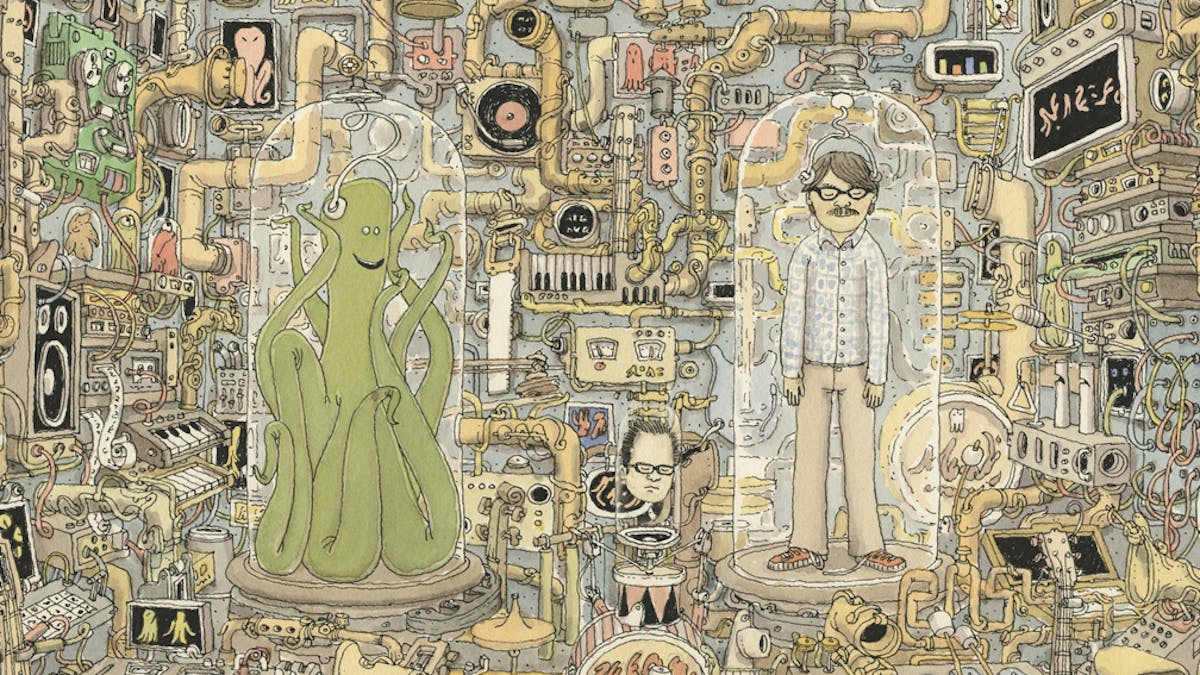 OK Human is certainly the biggest stylistic shift for Weezer in recent memory (excluding their 2019 cover album), but it still holds onto the best parts of the band—River Cuomo's strong but self-pitying songwriting, and their catchy as hell pop-rock. And this time, the production does as much of the work as they do. The chilling orchestral strings and rumbling, victorious percussion that find themselves ushering a majority of the album are expertly crafted and polished to the point of some of their greatest competition. Weezer took the best parts of their predecessors' efforts—the likes of the Beatles, Beach Boys, and even some decent Coldplay tracks—and fit them in with their hard-hitting rock sound to create moments like in "Grapes of Wrath," when the thundering cellos mimic chunky, driving guitars. The biggest reasoning for why I'd question this genre choice for the group is their lack of experience in it, but clearly I don't know what I'm talking about.
As much as this record is "new" and eventful for the group, it harkens back to their moody past of albums like Pinkerton. Discussing confused emotions, obsessions with sadness, aging poorly, and worries of losing relevance make this feel like their sophomore record's third cousin. And more importantly, much of the lyrical content is full of intensity—both in poeticism and delivery. Their career highlights have almost always run alongside genuine emotion while their failures have come through during attempts to relate to the youth (like in the recent Pacific Daydream (2017) and Black Album (2019)), so hearing them touch on dull, real-life topics of Aloo Gobi and Moby Dick is refreshing and relatively relatable for someone entering adulthood.
Speaking of the dull hints of real life, the record stinks of quarantine experiences and self-reflection gone too far, but how much of the record was produced during COVID is unknown—and apparently the production style had already been established as early on as 2019. As far as I'm concerned the background is a mystery, but it certainly couldn't have come at a better time for the relatability of the project. Choruses that discuss self-run activities like "I'm gonna rock my Audible / Headphone, Grapes of Wrath / Drift off to oblivion / I just don't care" sound very quarantine-esque, but to be fair, many of us (including myself) experienced these days before the chaos of the pandemic, and the lines could be there void of the event. Either way, some tracks are chock-full of these hints of loneliness, and if you've lived through the past calendar year, you're more than likely to get them.
As is natural with the territory, though, the record does tip-toe around cliché at times. Cuomo references endless high school-required readings back to back in the aptly-named "Grapes of Wrath," and by about the third mentioning it's hard not to roll your eyes at least a little bit. "Screens" echoes the boomer-ish sentiment that screens are ruining peoples' lives, despite them not being much older than those they're speaking about. "All My Favorite Songs" (as good as it is) is all about one's self-destructive tendencies (such as loving parties, but neglecting to go), and it's hard to tell what is cliché and what is just… well, true. Also, "Bird With A Broken Wing," while catchy, is a metaphor I don't really need to see ever again.
But all of that goes out the window when the closer, "La Brea Tar Pits," comes with the full-force of Cuomo begging for his life—quite literally. And that instrumental… Jesus Christ it's euphoric. From the small worldbuilding touches of setting some drumsticks down, to the subtle pianos throughout, to the final melding of his voice with the whole orchestra, it really couldn't be better. The song's crushing realization that Cuomo may be losing his place in the music industry—or perhaps the world in general—is both respectable and impactful. And though the inspiration behind it isn't exactly known, "Numbers"—while not as personal—is an effective message in its own. The numerical/quantitative valuing of human lives is out of hand, and continues to get worse as statistics and technology increase in relevance. In essence, some of these songs are of the most crucial Weezer songs out there.
As a collective project, OK Human is as solid as a Weezer record gets. The outstanding production prevails throughout the whole runtime, the songs have very few (if any) pandering moments, we're given a unique look at the group both in perspective and sound, and the group still maintains their overall identity. While I wouldn't put it in the conversation of the other three outstanding Weezer projects, I would put it at a rather close fourth—vastly ahead of all the others. There isn't really one glaring flaw, even in the midst of the more middling tracks. I'm thinking an 8/10 on this, and I'm more surprised than anybody!
If you enjoyed, please follow my social media pages, which are all linked at the bottom of my blog, and I'll see you soon!
Final Score: 8/10
Favorite Track(s): "All My Favorite Songs," "Aloo Gobi," "Grapes Of Wrath," "Numbers," "Playing My Piano," "Here Comes The Rain," "La Brea Tar Pits"
Least Favorite Track(s): "Screens," "Bird With A Broken Wing"