For the past couple of years, Poppy has been one of the more intriguing music stars to follow. When it comes to musical development, their songwriting, singing, and composing have all dramatically improved. Artistically, they've danced between genres, until seemingly finding a home in the pop metal and nu metal world. Even personally, their separation from Titanic Sinclair has allowed them more freedom to explore themself, rather than just the character they portray; including announcing their engagement very recently. So, after releasing their first ever metal record, I Disagree (2020), earlier this year, it looks as if they've finally been given the stability to be themself, and simply write music. And they start to take advantage of that, with the new bonus tracks on I Disagree (more) (2020).
Following their EP, Choke (2019), I Disagree showed a greater sonic variety, more unique combinations of metal and pop, and more relevant and relatable songwriting as well. While Choke was their first formal introduction to their new sound, it was short, and seemed to be experimenting slightly with potential avenues to follow. I Disagree, in just ten songs, was a more cohesive and decisive project, culminating the ideas of Am I a Girl? (2018), and Choke together. Of course, with bonus tracks, you never know what you're getting, and oftentimes, it's clear why they weren't chosen for the initial release. But in I Disagree (more), each song is unique, enjoyable, and fitting with the already-established themes of the album.
Read my review of I Disagree here.
You don't need to be told this, but a lot has happened since last January. The past seven months have been catastrophic in many ways, but important in others. But no matter the effects of the recent evens, one thing is sure: sh*t is crazy, and coincidentally, brings a whole new meaning to "Don't Go Outside." Poppy reads the room very well here, and discusses a lot of the insanity and stupidity within two of their four new releases.
The first, "If It Bleeds," continues the ideas and topics of the track that proceeded it; the aforementioned "Don't Go Outside." It's largely a critique of the public and their willingness to blindly accept information and the media. This time, it's a little harsher. Calling people "Stupid," "Idiots," "Tools," and more, it's a bit of a step up from simply calling them "Blind." But it's fair criticism, and fitting for the abrasion of their music. When it comes to the music, though, it's by far the least distinct. It consists mainly of simple, driving guitar chords, and doesn't really have the electronic/pop flair many of Poppy's instrumentals are known for. That said, the aggression and attitude is still fun alongside their filtered-but-smooth vocal delivery.
Luckily, "Bleep Bloop," doesn't disappoint with its musical style, opting for an abrasive electronic intro, very similar to something that SOPHIE or Death Grips would do. The center of the track still puts the focus on the metal side of things, with heavy distorted bass, and an accented drum beat, but it consistently jumps back and forth, which is what normally makes their music stand out. Lyrically, it's more personal; about conquering fear of someone, and instead, making them fear you. It's most likely that they're talking about Sinclair here, as they've just now parted ways, and it was a harmful situation before they managed to get free. It makes sense for us to be shown what it was like then, now, as their songwriting brings us up to speed.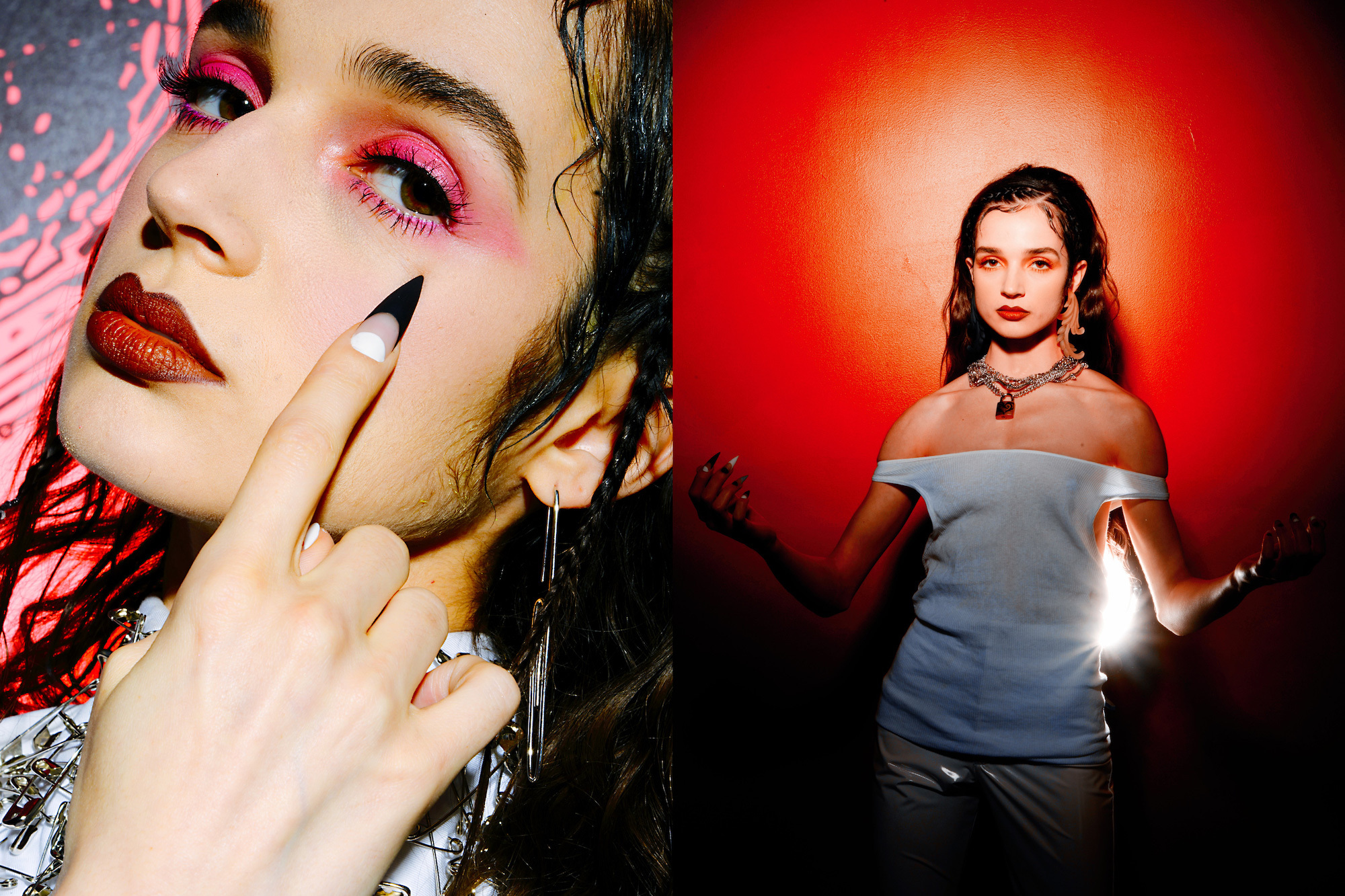 Before we get another look into the heart of Poppy, though, we're gifted yet another embodiment of the quarantine chaos, very clearly, in "Khaos x4." This might be the best and most deserved comparison to Baby Metal that Poppy has ever made. The continuous repetition of "chaos, chaos, chaos" is similar to their childlike screams, and is reminiscent of certain features in Korn songs as well. Once again, Poppy expresses a joy for the end of the world, as they did on a majority of the original I Disagree. The refrain is all about the acceptance of the inevitable; the most serious of which is "I might die."
Finally, the closing track, "Don't Ask," is arguably their most personal to date. Continuing the discussion of Sinclair, this song is all about moving on. Rather than bring up details, or vent about it, "Don't Ask" is about its name; asking us to not ask them about their past. In a recent interview, Poppy also made it clear that's it's a goodbye to this era, and they don't want people to ask for I Disagree-type songs again. Whereas "Don't Go Outside" was a conclusion of the ten tracks originally put onto I Disagree, this is a conclusion of this part of Poppy's life, period.
The four additional track put onto I Disagree (more) are all helpful to the source material. It brings us even further into the context of the crazy world, with the experiences developed in the past six months. It brings us up to speed on Poppy's personal life, albeit in a relatively vague way. And most importantly, it lets the audience know that this time is over, and Poppy will be moving forward. How? I suppose no one knows but them. No matter what, though, I'll be keeping up with them as much as possible. If I had to give this a numerical ranking, it'd be an 8/10. They're all pretty on par with the rest of the record and that's the score I gave it as well.