Since his hit single, "Ultimate," in 2015, Denzel Curry has slowly evolved into one of the more recognizable figures in modern hip-hop. To many, he may seem like a typical trap artist in the way he produces many of his beats (particularly on albums like 32 Zel (2015)), but his aggressive attitude, and surprisingly-dark thematic choices make him an incredibly unique artist. He's mentioned on multiple occasions that he's been influenced by heavy metal, and has even released a cover of Rage Against the Machine's "Bulls On Parade."
While his identity has stayed the same throughout most of his career, each release of his has been significantly different, with small exceptions. His initial double-EP, 32 Zel/Planet Shrooms was a loud, claustrophobic, and almost-trippy release in the way it used its perpetual, distorted bass. Imperial (2016) used many of the same effects as 32 Zel, but diversified and advanced its sound, utilizing guitars, synths, and other resources, like Denzel's vocals on the hook of "Ult." It also added some complexity to the lyrics, speaking more of his personal experiences, and internal thoughts. His 2017 EP, 13, was a bit of a return to the sound on 32 Zel, but with much clearer production, and more artist features. My personal favorite release of his, TA13OO (2018), was a three-part conceptual record, once again reflecting on his demons, but this time, being a bit more brutal and specific. It was also by far the most sonicly-flexible record he had released at that point. The title track is a beautiful, poetic ballad with a simple addition of a trap beat, unlike anything on his previous records. Finally, the release before this most recent one was his 2019 record, ZUU. It took another approach, focusing more on his childhood, his family, and his city. It had occasional showings of the dark self we'd come to know, especially towards the end, but I've compared it more to classic records like the Chronic (1992).
On the other side of this equation, you have record producer, Kenny Beats. The twenty-eight-year-old now has a ten-year career, in which he's worked with at least twenty artists at this point; the most notable of which are probably Freddie Gibbs, Rico Nasty, Gucci Mane, JPEGMAFIA, and even Ed Sheeran. Beats' most recent release, preceding this one, was the 2019 collaboration with 03 Greedo, Netflix and Deal, which I haven't heard too much about, but everything I've seen seems to be positive (Pitchfork giving it a 7.5/10).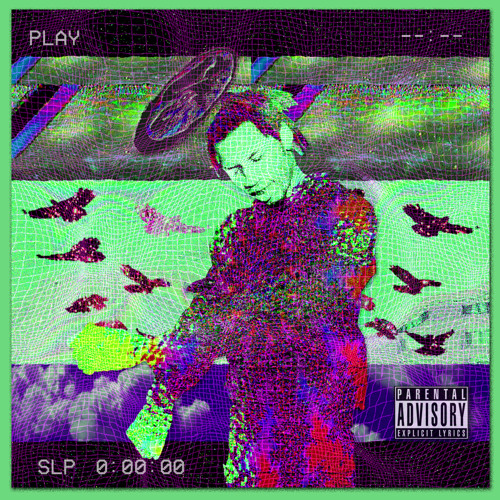 Weird, but fantastic cover to the double-EP, 32 Zel/Planet Shrooms.
While it's not as thematically focused as any of Denzel's recent major releases, UNLOCKED arguably flows better than all of them, in a quick, high-tempo that doesn't force you to think too hard. Being only eight tracks, and eighteen minutes long, each piece has its time, and leaves before it overstays; which only aids the quirky, fun production style of Beats. The lack of a singular focus allows them to play around with styles, lyrics, themes, etc., to create a universe around each individual song. This is more obvious when it's physically shown in the animated short created along with it, where Curry and Beats travel through the internet to reclaim their music files. Each track places them in a new environment. Whether they're in "the Uzumaki World," inspired by Japanese horror, or an episode of Scooby Doo; they traverse each plain for the first time, and that's exactly what it sounds like when you first listen to this record. But no matter how independent each track feels, it still finds itself comfortable under the umbrella of the whole record. The chaotic, web-heavy environment reflected in the numerous random samples, mouse-clicking sounds, and even the titles of the tracks themselves, all give you a clear picture of generally, where you are.
UNLOCKED lacks one specific style, but has influences written all over it. The intro track, "Track 01," starts with a sample of an old, 50's-sounding narration of a man describing a child's behaviors and thoughts. One record-scratch later, and you find yourself in a digital realm full of ominous chords, and a few previews of future tracks. This type of intro is not necessarily unique to any one artist or group, but was often utilized by the Wu-tang Clan and its members, and MF Doom. And these same influences continue throughout the record. The instrumental background of "DIET_" is used, in the animated short, to accompany an African jungle, but in my head, it sounds like something out of a Samurai Jack episode. Old, lo-fi, Asian-inspired (samurai specifically) instrumentals are one of the key marks of Wu-tang, and that's exactly what this is. You also cannot convince me that the beat on "'Cosmic'.m4a," would not sound amazing on any Wu-tang record. Similarly, the cartoon-like sound effects in many of the songs, specifically the ascending, high-pitched, metallic sound found in "So.Incredible.pkg," is used in many MF Doom tracks, like "The Illest Villains."
Vocal inflections and filtering are another way in which Curry and Beats show off their influences, and add to the record's comic-esque aura. The second chorus on "Lay_Up.m4a," drastically deepens Curry's voice to the point of it sounding like Busta Rhymes. More natural is his tone on the chorus of "DIET_," where he starts to sound like DMX, on the line "Get money from a show, then deposit it." Immediately after that, his lungs are injected with helium, before slowly dropping back down to Rhymes' level. This Chipmunk version of Curry can be found on pretty much every part of the record, even sneaking its way onto the word "Mario," on "Pyro (leak 2019)." This variation contributes to the weird, random, glitchy atmosphere no matter where you go. The singular track that does the most in this vein is definitely "Track07." It is entirely instrumental, with old film samples, and one-liners from other tracks, both fading in and out. Small details from other tracks, like the punching sound effect when Curry says "one shot to the brain," on "'Cosmic'.m4a," jump on the bandwagon too.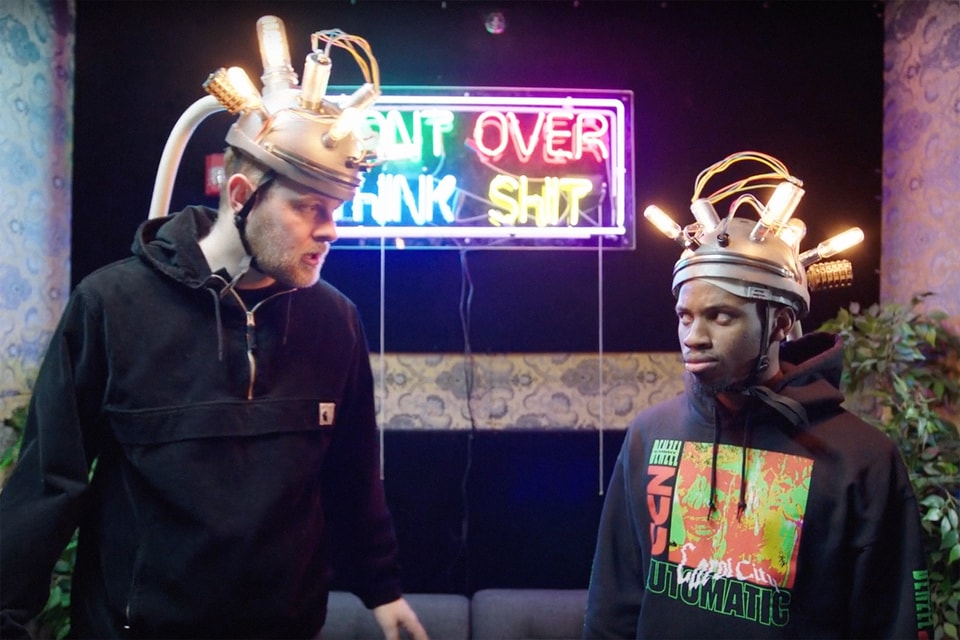 Denzel Curry looking skeptical, as Kenny Beats is about to port him into the internet to save his career.
Outside of the well-developed, absurdist universe, Denzel's bars are themselves, much more quirky and fun (even more so, compared to his typical material). Supposedly, this record was recorded over twenty-four hours, and therefore, many of the lines are entirely or almost-entirely freestyled, which I can believe. But whether or not that's true, his lyrics do have a feeling of goofy spontaneity, referencing pop culture every almost-ten-seconds. The lines "And I don't like Pixar, mist-er," and "Franklins on me, Los Santos / Diamonds on me, no Thanos / Too, too smooth like Lando" have at least four references combined, and that's just a small example. Denzel does relapse back into his old ways with lines like "Even with guns in my face at sixteen, AR-15 / Got a dollar and a dream," but makes those forgettable with borderline-horrible-but-ridiculous gems like "I don't got candy but I'll turn your head to Gushers, sucka."
There isn't too much more to delve into with this record, due to its lack of breadth, and seriousness. The quality of everything it brings is about as good as it gets, you just don't get much of it. I will say, with the last bar I mentioned being an example, the freestyle nature of these lines mean they aren't thought-provoking or entirely impressive in wordplay a lot of the time. But I think with the nature of the album as a whole, that's fine and not necessarily detrimental. As a brief highlight, for some reason – I don't know if it's the rhythm, rhyme-style, timing, or what, but… – the part of "DIET_," that goes "So braggadocious / Spit sick shit, it's atrocious / Rising like the stock / Stock broking / The Shogun / Came through with no gun / One man, ichiban / Fresh outta Japan / Do as I command" is one of the most pleasing, badass-sounding lines I've ever heard, when spit by Denzel, and is probably the biggest reason that track is my favorite on the album.
Watch the cartoon and listen to the record here.
Overall, UNLOCKED is a callback to many points in rap history. Whether they're putting together instrumentals that would've fit on Wu-tang albums, using comic-book-cartoon sound-effects to highlight individual lines like MF Doom, or even borrowing voices a few times, Denzel and Kenny do a good job mimicking their predecessors. But unlike certain bands (*cough cough* Greta Van Fleet), they manage to make it entirely their own. Geeky, one-of-a-kind bars, whether they came from freestyle or not, provide a fresh level of comedy to the record. And even if they use vintage samples of shows and movies, they put it into the context of the digital age, to where it doesn't sound like any sample-heavy album. It sounds like an exploration through time and space, which makes sense considering the video they put out to go along with it. Everything about this record is good, for what it it's trying to be. This isn't going to be a Kendrick record, where I have to spend ten-hundred listens understanding the conceptual depth. It's the exact opposite, but just as respectable. I'm thinking a 9/10 on this one.
Favorite Track(s): "DIET_," "So.Incredible.pkg," "Track07"
Least Favorite Track(s): None?