Happy mid-December, where I'm forced to discuss thing other than music because no one wants to release an album until January! In light of that, and my general excitement for pro League of Legends to start up, I'm starting a new series I'll be continuing for a while. Starting today, I'll be analyzing each LCS roster, discussing how I think they'll do, and why.
The first team that's up is Evil Geniuses. Despite being a new organization this year, the organization itself has a history in League of Legends, and pretty much every other strong Esport, so they should be knowledgeable and prepared for the year, which is good. They did take over for the last place team – Echo Fox – from last year, but luckily, none of the staff nor anyone on the main playing roster has stayed through to 2020. So that fact is essentially irrelevant at this point.
Talent
When looking at the actual roster itself, they're surprisingly stacked. They managed to sign last year's summer split MVP, Svenskeren, giving them a strong mechanical and macro jungler to build around. There was once a point in time on TSM where Sven was labeled as a horrid Lee Sin player, having low-skill in his role, and other slanderous things. But throughout the past two years on Cloud9, he proved himself to be perhaps the best member on that team, and single-handedly won them several games. Summer of 2018 was the Lee Sin show, picking up several kills with his pal GoldenGlue, and this past year, he made a couple of huge comebacks thanks to key Jarvan and Sejuani ultimates. He may not be a Dardoch, but he gives you a really good foundation with some great communication.\
Svenskeren at the Summer Finals, accepting MVP.
Coming over with him are past-Cloud9 support Zeyzal, and Cloud9's old academy top laner, Kumo. These two are probably the biggest question marks when it comes to talent/performance. Zeyzal has never been touted as one of the most mechanically-skilled supports, but his macro play did seem to be good under Cloud9, where I believe he made a lot of the map decisions. However, him and Sneaky last year combined to make one of the weaker bottom lanes in the LCS, and while some blame that on Sneaky's poor performance, I've heard Zeyzal may have been a large part of the issue too. We haven't seen Zeyzal play without Sneaky, since early 2018 in Academy, and I think we need to in order to properly assess his skill.
Kumo is even more unknown, though, as he's only played in four professional games, for what was maybe one of the most top-focused teams in the league. In his second game last year, he gained a lot of attention for solo-killing top lane legend Impact, but nothing else looked stunning out of those four games he played. His history in Academy has only been success, winning two different playoffs, and one regular season title, but aside from Ssumday for 100T, no one in Academy has been a notable top laner. Essentially, he showed potential with his outplay on Impact, and his domination of the lower-league, but has yet to truly prove himself. But if I know anything about Cloud9 Academy players, it's that they typically turn into all stars later.
The final two players added to the Evil Geniuses roster are Bang, and Jiizuke – formerly of 100T and Vitality. This seems to be where the true firepower will lie in the roster. Let's start with Bang, as he's probably one of the most well-known ADCs in the world. For those of you who are unaware, Bang is the former ADC of SKT, the greatest League of Legends team of all time. After winning two world titles with them, and coming second in another, SKT failed to make it to the World Championship in 2018, when he then departed for North America. But last year was more than a disappointment. Coming 10th in spring and 8th in summer, Bang went from being on historically the greatest League team to being at the bottom of the worst major region, but this wasn't necessarily due to his personal performance.
100T was a mess last season, struggling to determine what their starting roster would be for essentially the whole of both splits. Starting three different mid laners, and multiple top laners meant they weren't well-coordinated and therefore couldn't do anything well. His own play seemed pretty great, as their main win condition in a lot of their games was to put Bang on Ezreal and let him scale and carry. So, similar to how all star players like Froggen can get horrible results, Bang looks to be in good shape still, and if this team can synergize, could be the carry he once was.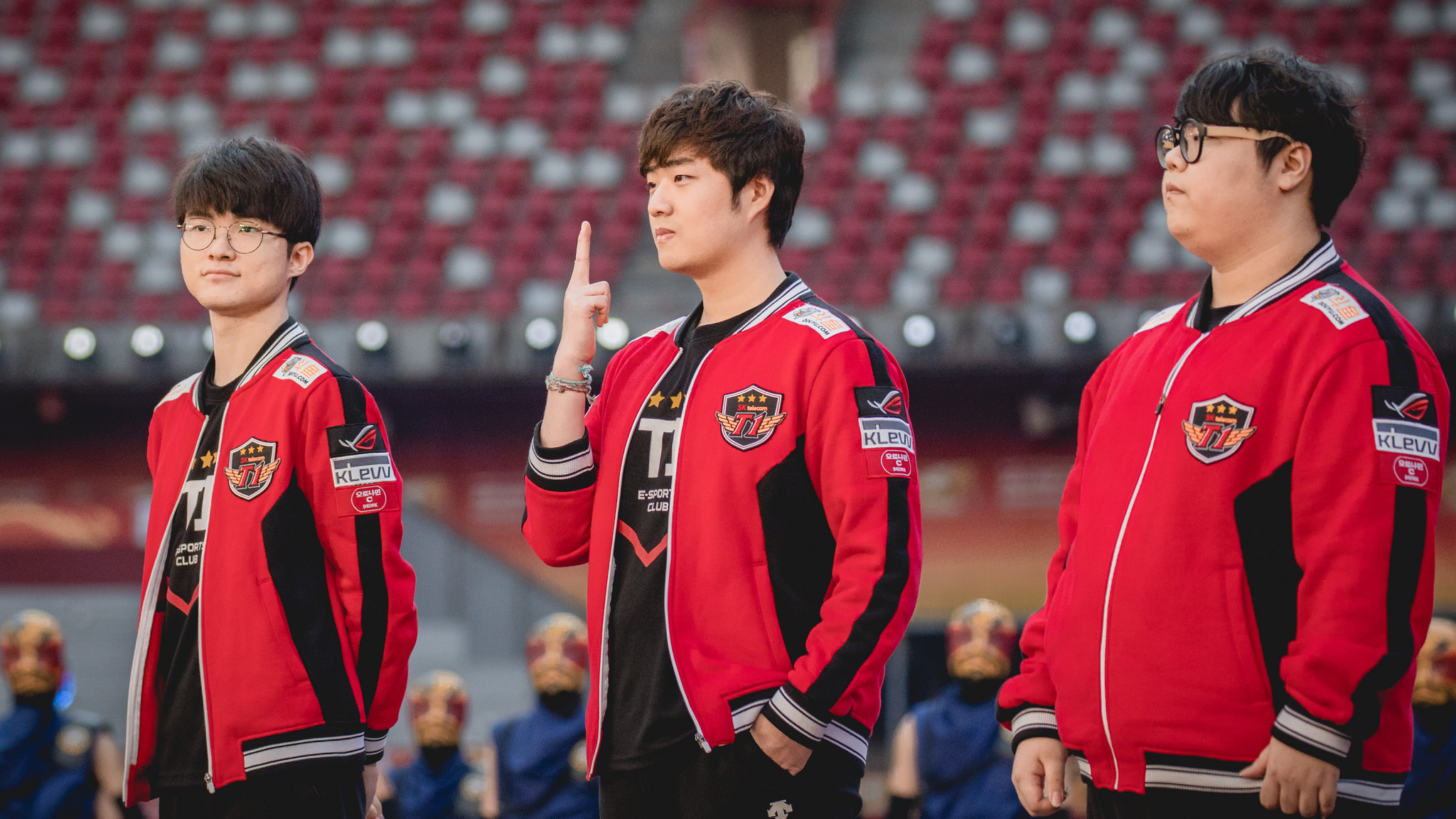 Bang at the 2017 World Championship (middle), beside world famous Faker (left) and Wolf (right).
Jiizuke is perhaps a similar story, only he hasn't the same historical record as SKT Bang does. Starting out as a rookie in 2018, Jiizuke soared to the top of EU, becoming famous for being one of the best Ryze and Ekko players in the world. The year ended with him being one game away from the knockout stage of the world championship, and everyone was looking forward to 2019. Despite starting off, I believe 6-1, they barely made the spring playoffs, falling out in the first round at 5th place. Then, in summer, the same exact thing happened, making the playoffs by an inch, and losing immediately. His personal statistics were lacking significantly, but the support team around him was failing at the same time, so it's difficult to identify whether or not he's the issue. If his level of play in 2018 can come back, EG might have a chance to finish top 3, but if not, it may be closer to 6 or 7.
Synergy/Teamwork
Perhaps more important than individual heights are the cohesion of the players themselves, but thanks to a couple of their roster moves, they may be off to a good start already. Svenskeren and Zeyzal have been playing on the same team for the past two years, so their immediate rapport will be strong. Also, support + jungle synergy has become one of the more important aspects of the game in competitive, so that could go a long way by itself. Kumo has played with these two as well, for a short while on Cloud9 Academy, and for the four games in which he was a substitute for Licorice last year. And all three living in the same house together has perks of its own.
Adding on Bang and Jiizuke to this well-paired base, I think will go well. Bang didn't do well on 100T last year, but as that was happening, he continued to be positive, and uplifting. He was very vocal about how much he enjoyed North America, and playing with everyone there, so I don't think his personality should have any issue melding with the three that are already friends. Jiizuke is the only question mark to me, and that's because he's only known one team/organization. Playing for Vitality for two years is his only experience in the scene, so a new organization and environment could throw a wrench in the gears. That being said, his personality seems very similar to Bang's. He's always happy and outgoing, likes to meme around, and seems to have a great time in a team environment.
"The Italian Stallion" Jiizuke.
The last part of the team is the coaching staff – mainly head coach Irean and assistant coach Artemis. The first has a history of coaching everywhere, from Europe, to Korea to now North America, whereas the second one is pretty new to the professional scene. Both did, however, make huge turnarounds for the teams they coached last season, and I think that's very promising for each of them. Irean ended up leading CLG to their first successful split in about two years, and Artemis, after joining Clutch, brought them from 10th place to going to the world championship. While I don't know the innerworkings of either of these teams, it seems each was brought up by the coaches – as neither team's personnel changed much otherwise. With all of that said, I'm pretty positive about the coaching staff.
Overall
It's clear Evil Geniuses want to compete right off the bat, with the roster they've constructed in their first split. Svenskeren was probably the most desired jungler in the offseason, and while they're not the best at each position, Kumo and Zeyzal should be familiar with each other in order to create a good team environment. Still in need of a carry, they picked up Bang, who has perhaps the highest potential in North America; maybe aside from Doubelift. Finally, gambling on Jiizuke isn't the worst idea. He's not known for playing poorly and losing you games, but when he plays well, he can essentially 1v5, and that's coming from a better overall region as well. Throw on a seemingly strong coaching staff, and there's not much wrong with this team. I predict them to finish top 4 or 5 in the spring, While I haven't said much negative on them, it's going to be really hard to compete with the top 3 of Team Liquid, Cloud9, and TSM, so I see them right outside that grouping. Either way, I expect an explosive entrance for Evil Geniuses just over the horizon.